If you want to listen along while you read here is the Spotify playlist for this week's show.
At the River – Groove Armada
Hello and welcome to Wanderlust Wednesdays, your weekly dose of escapism, I'm Kaitlin and I will be your host.
That was  by Groove armada, hopefully it washed away some of those Wednesday morning stresses.
Today on the show we will be catching up with the travel news from around the world and talking all things Thailand. We will also be joined by special guest Hope Smith who will be telling us all about our time there.
You can also now tweet us at @UOPVictoryRadio
But first let's lift the vibe a little bit: this is Another State by Tigers in the Sky.
Another State by Tigers in the Sky.
So there's been lots going on around the world this week,
Paris's First Nude Restaurant Is Now Open
The new eatery is called O'naturel and seats 40 diners and offers meals for around 30 euros apiece. Before entering the main dining room, guests are asked to remove all their clothes and leave them in the restaurant's wardrobes. The view into the restaurant is blocked from the street, and the neighborhood's residents, so far, seem perfectly at ease.
But did you know that last year London's first nude pop-up restaurant opened? It's called Bunyadi, and it's currently fundraising to reopen for a second season, There's also one in Tenerife called Innato, and they even serve some parts of the "aphrodisiac menu" on the wait staff's nude bodies.
Talk about dinner and a show.
https://www.cntraveler.com/story/paris-first-nude-restaurant 
In Iceland things are hotting up too, at the end of October, Iceland's Bárðarbunga volcano system was racked by four large earthquakes. These are a sign that pressure is building up in the volcano's magma chamber which will eventually lead to an eruption. Though it is too soon to say when or how big the eruption will be. It last erupted in August 2014 and didn't stop until the next February, it was the largest the country had seen in 200 years and resulted in air pollution that affected much of Western Europe.
https://news.nationalgeographic.com/2017/11/iceland-volcano-getting-ready-to-blow-spd/
Barcelona – George Ezra.
Also in travel news this week:
A Family of Travel Bloggers have been Found Alive After A Pirate Attack.
The Californian family of four went missing in the Brazilian rain forest for three days. The family was documenting their trip on their blog, Our Open Road. They were travelling on a river boat headed for the Brazilian city of Breves, when the boat was accosted by river pirates. The pirates stole the possessions of the crew and passengers and later that day floated the boat back to a dock, but the american family were not on board. Three days later police announced that the family had been found alive with only a few scratches and insect bites.
No additional details on how they escaped have been released.
https://www.nationalgeographic.com/adventure/destinations/south-america/family-american-travel-bloggers-found-brazil-pirates-spd/
Last week, Google launched Street View for 170 new trails across 19 South African national parks, some of which had never even been fully trekked before. This was done by 600 hardy volunteers who carried camera backpacks that weighed over three stone each. They filmed elephant sanctuaries, game reserves, and river canyons. So now you can go on safari from the comfort of your own pajamas.
Modern Technology eh?
Wagon wheel The Old Crow Medicine Show.
Every show I am going to be selecting a Destination of the week and reading an excerpt on it from Lonely Planet's coffee table edition of The Travel Book: A Journey Through Every Country in the World.
This week we are talking about a country I've never actually been to but it's very high up on my list, yep today it's Thailand.
Here is what Lonely Planet have to say about this tropical paradise.
(excerpt)
Holiday-Poor Moon.
Now moving on to a very exciting new segment: STA Travel's Deals of the week
Every week, I will be bringing you deals selected especially for this show by the Sta Travel team in their Portsmouth office on Commercial Road.
This week you can get 15% off their Northern Thailand Hilltribes Trek, which lasts five days and Melanie from the portsmouth store has actually been on it and she says it's ace!
There's also 15% off the Thailand Hike Bike and Kayak  a 14 day tour which starts and finishes in Bangkok but takes you south to Krabi exploring everything in between by wheel and paddle and foot.
I actually think that sounds amazing, good exercise too!
10% off Thailand Island Hopper tours – which is perfect for beach lovers as it takes you from Koh Samui to Koh Tao and gives you plenty of time to snorkel and sunbathe to your hearts content.
And for the more independent traveller! There's up to 20% off flexible travel passes through South East Asia.
And don't forget Portsmouth's STA travel branch are still offering £50 off your booking if you book an appointment instore with them.
this is a great deal and definitely won't be around forever. Oh and don't forget to mention Wanderlust Wednesdays!
Wet suit The Vaccines
Our guest in the studio today is the lovely Hope Smith
She's a second year film industries and creative writing student.
But last summer before she traveled around Thailand and is here with us now to tell us all about it.
(Interview)
Hi Hopw
How are you today?
So how long was your trip and where did you go?
Do you have a favourite place from the trip?
How about a worst place?
And before the show I asked you to think of a song that captures a moment from that trip, what did you choose and why?
Guest Song request: Let me love you – Justin Bieber.
The weather today…
In Portsmouth it will be cloudy with highs of 11 degrees
However the hottest places on earth today include:
Bangladesh with highs of 50.5 degrees!
And the coldest place on earth today is Concordia in Antarctica with a very chilly minus 48 degrees.
The place that received the most rainfall in the last 24 hours is actually our destination of the week: Thailand,  Prachuap Khirikhan received over 197 millimetres.
In toulouse, france, today the weather will get as warm as 11 degrees
And This is where our next artist is from and her debut single Makeba is sure to warm you up on this cloudy Portsmouth morning, this is Jain.
Makeba – Jain
I read an article earlier this week on Escape.com with the title Why you shouldn't eat pad thai in Phuket.
Naturally I was intrigued, because pad thai is obviously delicious.
The article explained that before backpackers and tourists descended on the largest thai island it was a melting pot of Malays, Chinese, Indians, Thais and "sea gypsies" who created a fusion of flavours and the island's unique culinary palette.
In fact it was made one of UNESCO's World's Leading Cities of Gastronomy in 2011, and in 2015 Phuket was upgraded to City of Gastronomy status due to its unique food scene.
The article recommends visitors try unique takes on chinese noodles, indian curry and roti bread,
It also says you shod have dim-sum for breakfast, grab some street food and try the food markets, particularly the largest in Kathu, which is between Patong and Phuket Town.
We've got Hope in the studio with us still, While thailand is known for its delicious food, it's just as well know for its weird and wonderful dishes… can you guess what these four thai dishes are just from the name?
Images: https://www.tripzilla.com/bizarre-thai-foods/19409
Mok Huak,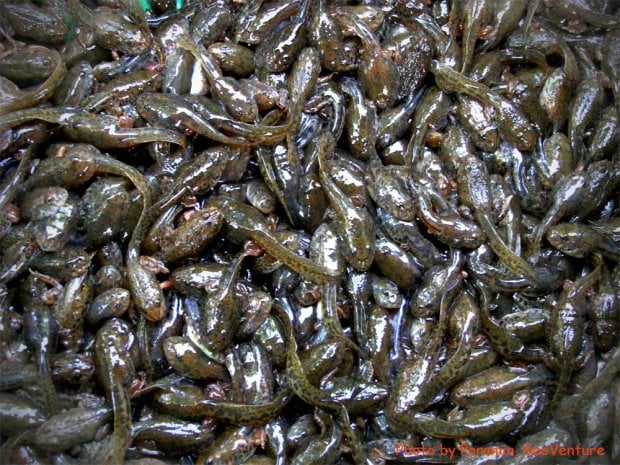 (developing tad poles in fermented fish sauce)
Takatan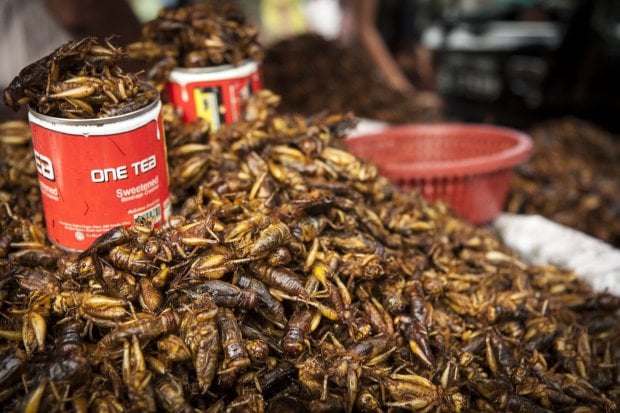 (grasshoppers, very high in protein!)
Larb Mote Daeng
Luuu Muu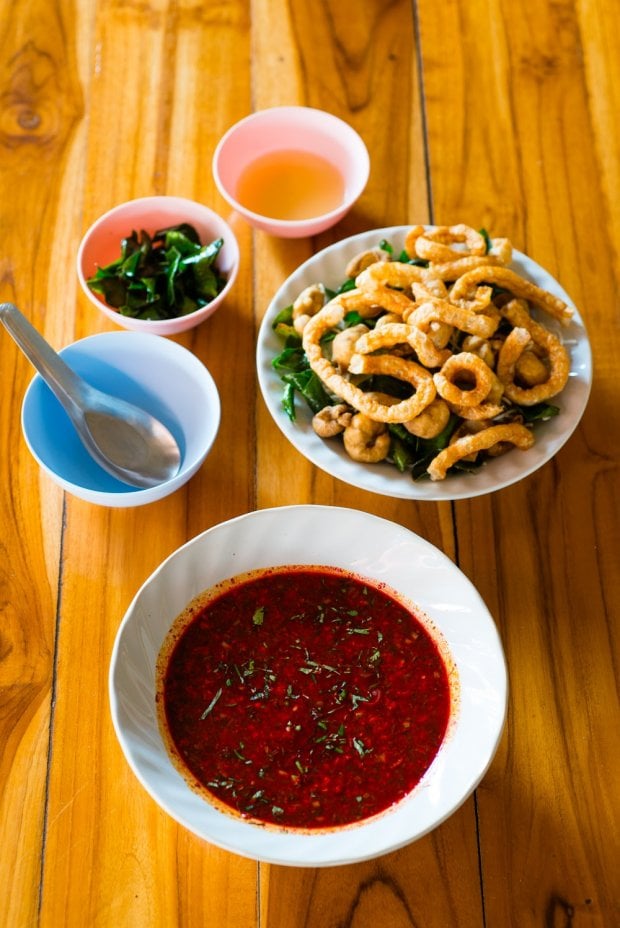 (Raw Pigs Blood)
Same Jeans by The View.
So that's all we've got time for this week,
I'm Kaitlin McKenzie and this has been your Wanderlust Wednesday.
Thankyou for listening, especially you mum!
Next week's theme will be road trips. I'll be talking about a road trip I took in Western Australia that did not go to plan and of course, telling you all my top tips for planning your own – which will hopefully go a little bit better.
Plus we will Maria Sewell talking about her experience driving through Europe this summer.
If you have any questions you want answered on the show or have any song suggestions for that perfect road trip playlist, email me at: kaitlin.mckenzie@myport.ac.uk or tweet me at @UOPVictoryRadio